The Guardians head rock and pop critic, and presenter of the Music Weekly podcast, reflects on 17 years in the job
How did you start writing about music? Why?
Theres an oft-trotted-out line that most music journalists are failed musicians, but Im honestly not. I grew up wanting to be a writer for Smash Hits, not to be on its cover. By the time I was in my early 20s, I really wanted to write specifically about dance music, so I pestered Mixmag for work experience, which turned out to be a far better idea than I thought. It was an independent magazine, and there were a lot of talented people there, but it was a relatively new music scene they were covering, with rules and standards very different from conventional rock music, so everyone was sort of busking it, making it up as they went along, which made it a very good environment to start your career in. I eventually ended up as deputy editor. Then I freelanced for a while, got asked to do some reviews for the Guardian which went down well, and they offered me the (vacant) post of rock critic in 2001.
How has the job of a rock critic changed over the period youve been at the Guardian?
When I started, there were no iPods, no smartphones, broadband was in its infancy, no YouTube, no streaming: everyone knows what kind of impact those things have had on rock and pop music. It was inconceivable that artists would put out an album without sending copies out for review in advance, but that happens virtually every week now. Ive got completely used to writing first-take reviews, where you only have a few hours to listen to something, formulate your thoughts and write a review. You get the feeling that the music industry wishes music critics would go away theres no desire to hear anything other than blanket praise, and they try and exert control in order to get that.
But I think good writing about music still has a role. I love the idea that it might introduce readers to something they havent heard before anyone who loves music obviously has an urge to share the music they love with people although Im not sure it has that much effect on what music people buy. If anyone listened to what music journalists think, the charts would look very different. But if its entertaining, people obviously still want to read it: a strong music feature can outperform everything else on the Guardian website in terms of hits, and the subject doesnt always have to be a big star. A couple of years ago, I wrote about Marilyn, who had two hit singles 34 years ago, but his story was fascinating, and when the piece came out it was the most-read thing on the Guardian website.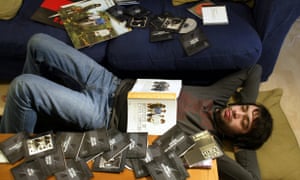 Read more: http://www.theguardian.com/us