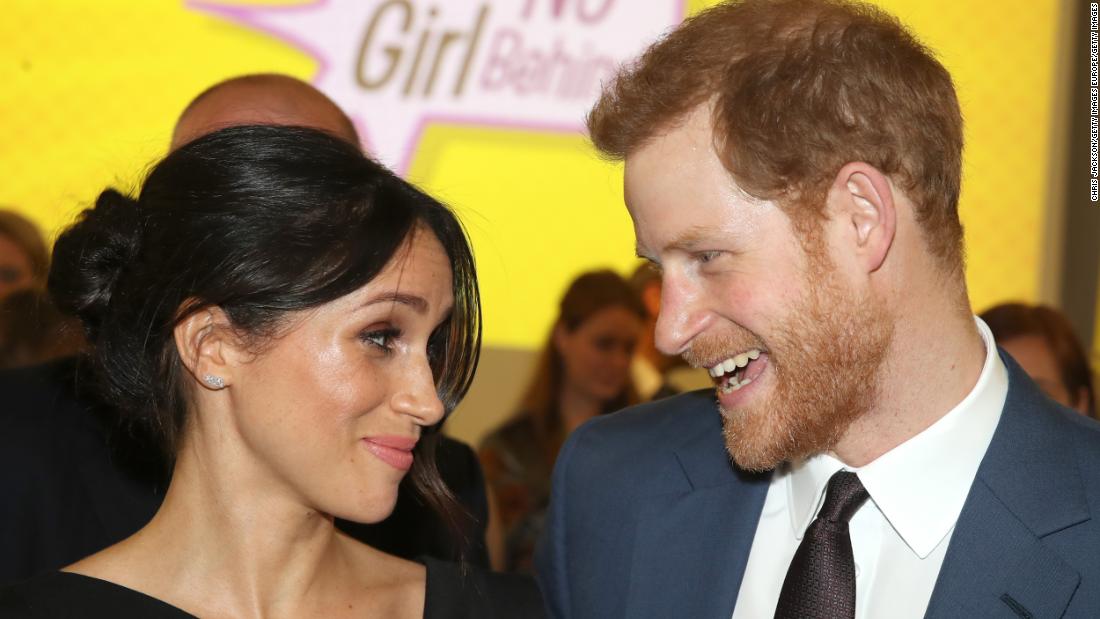 London (CNN)As so often, it all started with a tweet. This particular one was posted on the morning of November 27 last year.
As journalists around the world scrambled to publish their already half-written stories, Kensington Palace — home of the Duke and Duchess of Cambridge (Prince Harry's brother and sister-in-law) — retweeted the announcement.
A series of carefully crafted posts followed, offering tantalizing snippets of information about the
upcoming nuptials
and reaction from family members.
The 3.3 million followers of the Palace Instagram account were also treated to pictures and a video clip of the couple — since "liked" hundreds of thousands of times.
In the months since the announcement, the Palace's social media accounts have fed the insatiable press and public a steady diet of wedding-related news and pictures, from details about who would bake the wedding cake to announcements about the route of the wedding procession and the musicians chosen to perform at the ceremony.
And it's not all about social media. There have been carefully planned visits to South London, Wales, Scotland and Northern Ireland — ensuring none of the constituent nations of the United Kingdom had cause to grumble.
So who's in control of the royal PR machine and how are Harry and Meghan using it to make their mark?
Who's behind all the tweets?
The communications team at Kensington Palace comprises six people, led by Jason Knauf, an American who joined in 2014 from the Royal Bank of Scotland. They handle public relations for the Duke and Duchess of Cambridge as well as Harry and Meghan.
They don't like to draw attention to themselves, preferring to keep a low profile. "I'm not sure we can offer a comment. We are not the story," one member of the press team said in response to a request for assistance with this article. They went on to offer only a few — and already publicly known — details about the team.
How much of what we see is choreographed?
Most of it. From the timing and wording of each tweet or Instagram post to the shoes Markle wears on each public engagement, every element is part of a strategy.
But, according to royal experts, it's a strategy that is very much guided by the couple themselves. "She's independent, she's a career woman," says royal biographer Penny Junor. "I think it would be very odd if she took a complete back seat. And she's marrying Harry… who is much more of an independent spirit in a very traditional household. He's a thoroughly modern guy."
Duncan Larcombe, former royal correspondent at British newspaper the Sun and author of a book about Prince Harry, believes this apparently hands-on approach will carry through to the ceremony itself. "Their wedding will be the Harry and Meghan show," he says.
In fact, both Prince Harry and his older brother William tend to play a big role in deciding what they do and how it's communicated, Larcombe says.
"Yes, it's choreographed, but the royals always have the final say," he says. "There's a real limit to how much a press secretary can intervene. They don't tell them what to do."
But the relationship is a good one, explains Junor. "Their team are pretty well in tune with them," she says. "There's a good dialogue between them all."
Harry, like his late mother Princess Diana, is a fierce advocate in the fight to eradicate stigma around HIV/AIDS — and Nottingham is home to a program Harry helped set up to combat youth violence.
"He's using his power intelligently, his soft power," says Junor.
In a further sign that the younger royals are playing a more active role, all of the wedding-related communications are being handled by Kensington Palace, while the press teams at Buckingham Palace and Clarence House, the home of Harry's father Prince Charles, are taking a back seat.
So what about Markle? Does she have any say?
Harry's bride-to-be has given up her acting career, shut down her social media accounts and now has a long list of royal protocols to follow. But Markle seems keen to do things her way whenever possible, just like her fiancé.
She was photographed wearing ripped jeans
on her first official appearance as Harry's girlfriend
, caught writing a note to one fan while on walkabout in Cardiff and taking a selfie with another, giving high fives, hugging a charity worker and even sticking out her tongue at passersby on Christmas Day.
"I get the impression, with Meghan, her approach is 'just try and be myself,'" says Larcombe.
According to Pauline Maclaran, professor of marketing and consumer research at Royal Holloway, University of London, and co-author of "Royal Fever: The British Monarchy in Consumer Culture," Markle's naturalness is a boon for the royal family and is likely being deliberately incorporated into the PR strategy around the couple.
"Meghan is able to enchant the public and at the moment that's a very good thing for the royal image," she says. "Sure, she's being given protocols to follow and pieces of etiquette, but in terms of her natural spontaneity with the public, it wouldn't make sense to rein that in."
Markle's openness also fits well with the new image of transparency and normalcy that's been cultivated by the young royals over the past few years, helped by social media that can cut out middlemen in the form of journalists and allow the public some kind of direct access to the princes and their partners.
Harry and Meghan are bringing that spirit to their own wedding,
inviting 2,640 members of the public
inside the grounds of Windsor Castle to "share in the joy and the fun of the day." The news was of course announced via Twitter.
Since it's unlikely Harry will ever be king, he and Markle enjoy much more freedom than William and Kate, explains Maclaran. As heirs to the throne — William is second in line behind his father, Prince Charles — the Duke and Duchess "have got to be seen as dignified as well as accessible," she says. "Harry and Meghan can be allowed to be a little bit more themselves, a little bit more relaxed."
If she's perceived as behaving more like a celebrity actress than a royal bride, however, Larcombe believes Markle could face criticism.
"I could see her being criticized for being too gushy, or, dare I say it, too American," he says. "A Hollywood star is expected to be glitzy and glamorous, wealthy and indulgent." But as a royal, "you've got all the fame but you're not allowed to show the fortune."
That's a lesson Markle seems to be learning already, according to Larcombe. Criticized by some for wearing a couture gown reportedly costing $75,000 for
the official engagement photos
, Markle has since opted for more modest outfits, often wearing British brands, including a £45 ($60) jumper from high street retailer Marks & Spencer.
There's still so much we don't know about the young royals. Why is that?
Even amongst the "Fab Four" (as the British press have dubbed the two princes and their partners), any openness is tempered with a heavy dose of discretion.
With Harry and Meghan, the strategy could be described as "controlled communication," says Maclaran. "They're showing a willingness to communicate but doing it on their own terms, so they don't have the intrusive media attention they so much try to avoid."
William and Harry were teenagers when their mother Princess Diana died in a car crash in Paris. A jury later ruled that her death was partly the fault of several French paparazzi who were pursuing Diana and her lover through the city that night.
As a result, the princes are both alert to the potentially fatal consequences of press intrusion.
"One lesson I've learned is, you never let them in too far, because it's very difficult to get them back out again," said William last year in a documentary marking 20 years since Diana's death. "You've got to maintain a barrier and a boundary."
The statement, issued via the Kensington Palace Twitter account, was an unprecedented piece of royal communication. "There have been other appeals (to the media), but there haven't been appeals quite like this one," said royal commentator Richard Fitzwilliams at the time.
Although his approach since has been less overtly combative, Harry will be looking "very carefully at what's written about Meghan," says Larcombe. "He will want to protect her."
One example was his decision to be pictured "very publicly and affectionately"
with Markle at the Invictus Games
, according to Larcombe. "That was Harry's attempt — and a successful one — to spike the market."
The couple have applied the same strategy ever since. "They're trying to control the flow, so (the coverage) doesn't become hysterical," says Maclaran, adding: "It seems to me it's working at the moment."
Read more: http://edition.cnn.com/