The marchers who converged on the Pentagon 50 years ago placed flowers in soldiers guns but also opened up a cultural faultline that persists to this day
They were in the belly of the beast. Marching on the Pentagon, control centre of the worlds most powerful fighting force, protesters against the Vietnam war were confronted by military police (MPs) with rifles pointed directly at their heads. Among the demonstrators was a long-haired man with a bulky sweater and a bunch of flowers.
All of a sudden, this hero put a flower in the barrel of the rifle pointed at his head, and everyone was disarmed on both sides, participant Bill Zimmerman recalled. The MPs had a what the fuck is this? expression. Then I realised what he was doing and thought it was brilliant. He worked his way down the line and I saw him put seven, eight, maybe 10 flowers in rifle barrels. The crowd surged and I couldnt see him any more.
Zimmerman and fellow activists will be back in Washington this weekend to mark the 50th anniversary of the march on the Pentagon, a moment of flower power and turning point in the anti-war movement. More than 600 people including novelist Norman Mailer were arrested on 21 October 1967 for acts of civil disobedience, a day after a revolt against the draft led to the turning in of a thousand draft cards.
The audacious siege of US military headquarters was a milestone in the shift from pure protest to mass resistance. Half a million people would march in Washington in 1969. Four million high school and college students would go on strike in 1970 in response to the invasion of Cambodia. Zimmerman continued: When you believe your government is committing crimes or failing to meet the needs of its people, you have to stand up and say something. If they still dont listen, you have to do something more dramatic. The lesson of that day is with enough people you can overcome police power resistance works. Today we Americans certainly have ample reason to protest and resist.
The Pentagon protest was also a vivid demonstration of division in America. It would be followed by years of unrest including, in 1970, the deadly shooting of unarmed students at Kent State University in Ohio. The turmoil revealed a nation more deeply split than at any time since the civil war a century earlier, with protesters castigated as traitors, veterans returning to insults and the very meaning of patriotism suddenly uncertain. The rift has arguably never healed but rather become a scab picked at by the culture wars, Iraq war and now the presidency of Donald Trump.
Zimmerman, who features in Ken Burns and Lynn Novicks critically praised PBS documentary series The Vietnam War, was 26 and working at Brooklyn College at the time. He remembers watching almost daily TV footage of US planes dropping bombs and napalm on villages, killing thousands of people as body bags came home. Yet supporters of war had slogans such as: My country, right or wrong.
It was clear we were being ignored
Zimmerman took a bus to Washington, where the plan was to hijack an anti-war rally at the Lincoln Memorial and turn it into a march on the Pentagon. We saw this as a potential turning point in the movement, he said. We had been protesting for three years and often felt frustrated at the lack of impact on policy. It was clear we were being ignored. Just as the war had escalated, we felt we had to escalate our protest.
The rally crowd was more than 100,000 strong, with speakers including pacifist Dave Dellinger and paediatrician Dr Benjamin Spock and musicians such as the folk group Peter, Paul and Mary. The Washington Post reported: At the Lincoln Memorial, the crowd that had gathered was in a football-afternoon mood as it lined the banks of the Reflecting Pool. There were hippies and housewives, veterans and aging pacifists, but the overwhelming majority were college or high-school aged students.
About 50,000 people then marched across the river to the Pentagon: at one point a line of people stretched all the way from one to the other. Zimmerman said: When I saw the number, I was elated. I realised we had succeeded in moving from protest to resistance. This was probably the first time anywhere in the world except maybe with Gandhi in India that 50,000 people were willing to commit civil disobedience.
As Burns and Novicks series has highlighted, the Vietnam war opened a cultural faultline that never went away. Zimmerman, who became a political consultant based in Los Angeles, added: There was polarisation that occurred around Vietnam in which the right called the left traitors to the country; thats a powerful word to use 20 years after world war two. We flipped early into calling our opponents fascists; thats also a powerful word to use 20 years after world war two. It was not just a bitter disagreement. It became a battle between two sides that saw each other as unpatriotic and traitorous.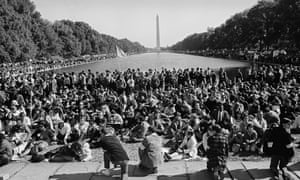 Read more: http://www.theguardian.com/us