His suggestion that black people have been complicit in their own slavery has prompted widespread outrage. What lies behind Kanye Wests recent provocations?
In a video viewed more than 6m times on Twitter, 21-year-old Chika Oranika summed up the current feelings of many black Americans about Kanye West. She delivered her own lyrics over the beat of the rap stars Jesus Walks. How you say you Yeezus but do nothing to restore us? You support the people up in power that abort us, she raps into the camera. It dont matter how much money you got or you lack, when that cheque clear dont forget that your children are still black.
Why the opprobrium, which has come from activists, Hollywood stars and fellow musicians, as well as withering online freestyles? West, one of the most significant, complex and celebrated rappers in the US, has used a 350-tweet stream of consciousness over the past fornight to throw his support firmly behind Donald Trump. But yesterday, he went way beyond party politics in an interview with TMZ, saying, in a sloppy bit of rhetoric: You hear about slavery for 400 years. For 400 years? That sounds like a choice.
Host Van Lathan tore back at him: While you are making music and being an artist and living the life that youve earned by being a genius, the rest of us in society have to deal with these threats to our lives. Roxane Gay reacted on Twitter by calling his comments dangerous and trite, shallow he is not a free thinker. He is a free moron.
Black Americas dismay at West has been brewing for some time. He puzzled many when he posed for photos with Trump in December 2016, making him one of the first celebrities to apparently endorse the new president. But his recent tweets left no room for doubt. He posted a picture of himself wearing the Trump campaigns Make America Great Again cap, and tweeted: You dont have to agree with Trump but the mob cant make me not love him. We are both dragon energy. He is my brother. After an intervention by a presumably somewhat weary Kim Kardashian, West wrote: My wife just called me and she wanted me to make this clear to everyone. I dont agree with everything Trump does. I dont agree 100% with anyone but myself.
In response, R&B singer Frank Ocean emerged from hibernation with a sarcastic screengrab of the time West went off-script during a 2005 Hurricane Katrina appeal to say George Bush doesnt care about black people, the intimation being that it is now West who doesnt care. Samuel L Jackson suggested West was courting an audience in the sunken place the psychic interzone in the horror film Get Out into which black people are hypnotised and silenced (the films director, Jordan Peele, has previously linked it to Trumps America).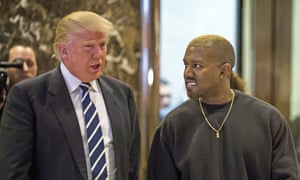 Read more: http://www.theguardian.com/us