The Boss will play a hometown show in Asbury Park on Monday, but as luxury apartments spring up around the seaside resort, not everyone is pleased
Inside Asbury Parks showy new music venue Asbury Lanes, locals stare open-mouthed at what used to be a retro bowling alley played by local bands and burlesque acts. Where just a few years ago there was an orange drop ceiling, some old lanes and a bar with $4 grilled cheese, there are now sleek liquor cages struck by cool blue lights.
Kurt Vile and the Violators are on stage, the mostly acoustic band formed by the War on Drugs former lead guitarist, in front of a neon and strobe backdrop flashing in sync with the low-key indie rockers vibey tunes.
Its good to be back, Vile told the crowd. I live just over the river in Philly, he said, and traded out another guitar before sinking back into the music. The stage was flanked by stacks of old guitar amps (theyre just for decoration), and an after-work crowd nodded along.
Asbury Park is a seaside town, part of Jersey shore, where working-class surfers, artists, musicians, gay men and women and African American culture mixed for decades. Its bordered on the east by a kitsch-filled stretch of boardwalk along the Atlantic.
Even on a cloudy day in the middle of the week, the air smells vaguely of hotdogs and funnel cake (a calorie bomb of fried dough covered in icing sugar). Sea myst floats off the Atlantic, toward attractions like the pinball museum and its life-sized fiberglass Elvis.
Asbury Parks long history of false starts at redevelopment, in many ways, allowed these groups to continue to live in the 1.5 sq mile town, bordered by more affluent and conservative stretches of beach.
This town is best known for fostering the states most beloved export: Bruce Springsteen. His 1973 debut album Greetings from Asbury Park thrust the town and its pushers, peddlers and conmen into rocknroll imagination. Its only an hour from New York, but feels a world away.
The Turnpike (an inter-state highway) goes from New York to Philly, said Vini Mad Dog Lopez, the former drummer for Springsteens E Street Band. It dont stop in Asbury Park. Even though people might think its a mecca, its got a long way to go.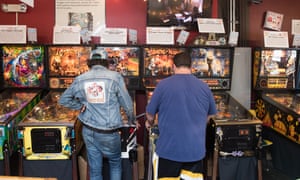 Read more: http://www.theguardian.com/us