Ravens and Jaguars players lead protest in London and owners voice solidarity before president says his attack on protests over racial injustice has nothing to do with race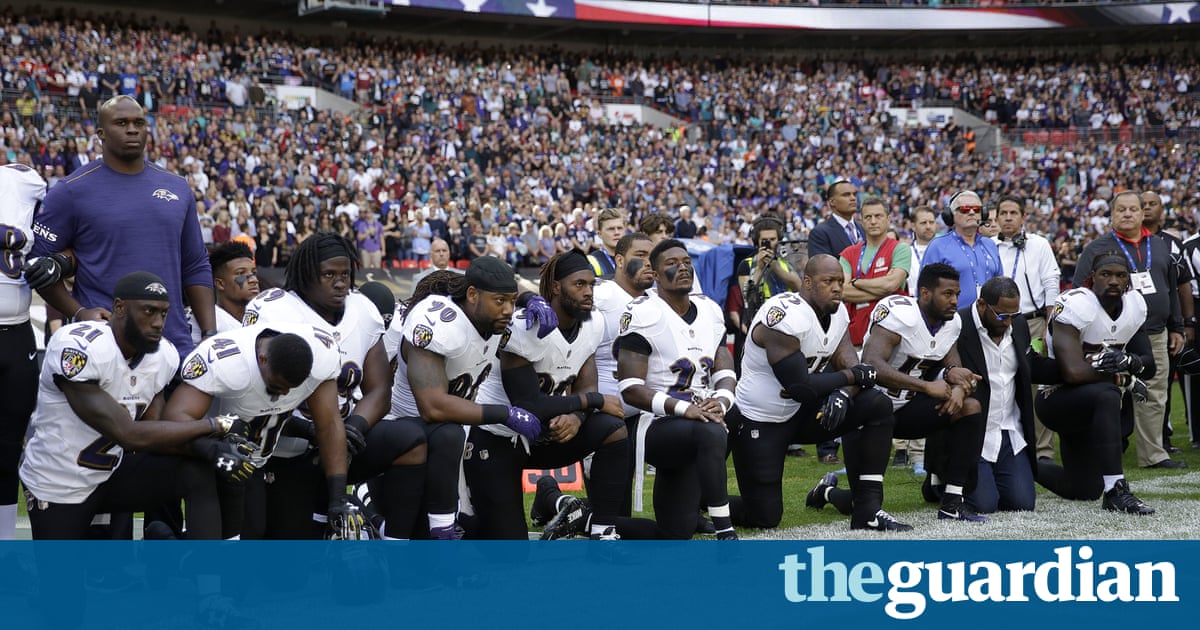 NFL players staged an unprecedented wave of protest on Sunday, beginning at Wembley Stadium in London, as Donald Trump maintained his attack on players who kneel in protest against the national anthem.

It was a climactic day for a movement that began with a single backup quarterback kneeling before a pre-season game 13 months ago and has since prompted a nation to wrestle with questions of free speech and racial justice.
Colin Kaepernick, then with the San Francisco 49ers, kneeled in an attempt to provoke debate over race and police brutality. He is now without a team but active players have followed his example. This weekend, the protest spilled into baseball: the Oakland As catcher Bruce Maxwell kneeled during the anthem before a game against the Texas Rangers.
Early on Sunday, shortly before his own treasury secretary insisted he was not picking a fight, Trump doubled down on his bellicose remarks at a rally in Alabama on Friday night. The president repeated his challenge to NFL team owners and encouraged fans to stop attending until the owners take action.
If NFL fans refuse to go to games until players stop disrespecting our Flag & Country, you will see change take place fast. Fire or suspend! Trump wrote on Twitter. NFL attendance and ratings are WAY DOWN. Boring games yes, but many stay away because they love our country. League should back US.
Later, at an impromptu media scrum as he headed back to Washington from his Bedminster, New Jersey golf club, Trump was asked if he was inflaming racial tensions by criticising protesting players who are almost all black.
This has nothing to do with race, he said. I never said anything about race. This has nothing to do with race or anything else. This has to do with respect for our country and respect for our flag.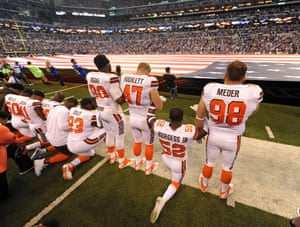 Read more: https://www.theguardian.com/us-news/2017/sep/24/donald-trump-nfl-protests-kneel-anthem