Its tricky to know where to start with Trump, so the cast threw a lot of jokes at the wall. Not many of them stuck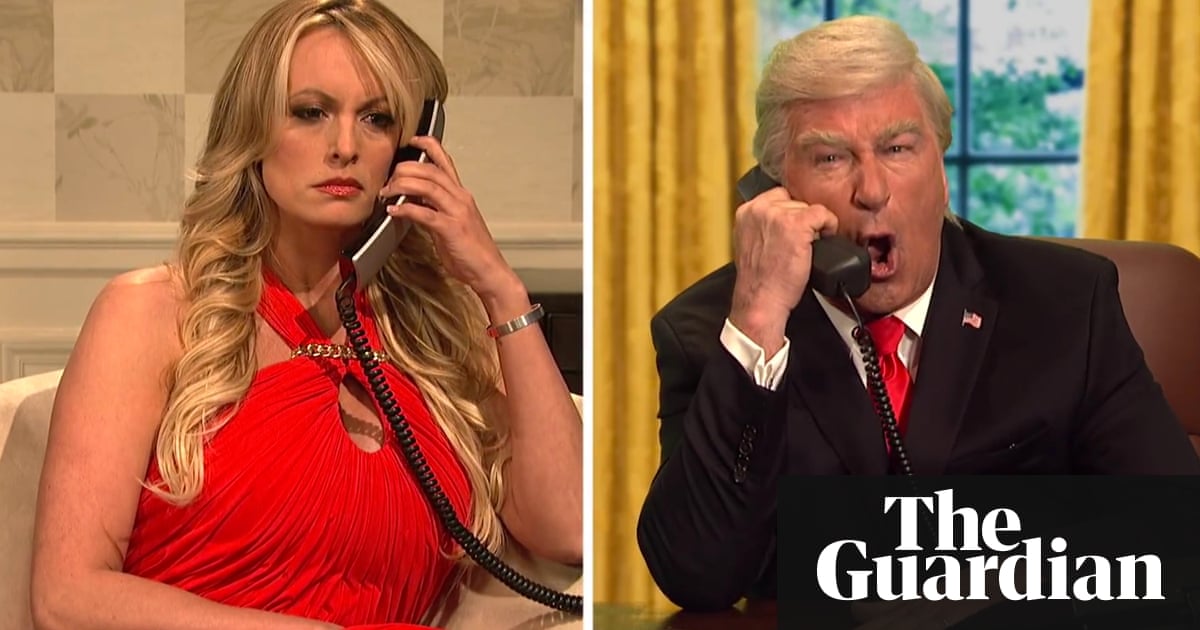 Michael Cohen (Ben Stiller) is in a panic, trying to get answers from Donald Trump (Alec Baldwin), who patches him through to a cast of characters that almost makes me feel nostalgic: Harold Bornstein (Martin Short), Mike Pence (Beck Bennett), Rudy Giuliani (Kate McKinnon), Melania (Cecily Strong), Ivanka and Jared (Scarlett Johansson and Jimmy Fallon), Stormy Daniels (Stormy Daniels).
Yes, thats right, its actual Stormy Daniels, and though she says I work in adult films, were not really known for our acting, her demand for a resignation is very convincing. Actual Donald Trump is going to be so mad in the morning!
Ive never been so scared and so horny at the same time, says Baldwin-as-Trump. Live from New York: its Saturday Night.
Donald Glover is hosting and hes excited to be back in New York especially now that Im rich. Back when he was a New Yorker, he explains, he auditioned for SNL twice unsuccessfully. Hes still a little bitter, even though his career is going from strength to strength. If youre black, he says, I made Atlanta and Redbone.
Glover can do anything, he insists, which he demonstrates by failing at various things: skateboarding, cooking, fixing some electrical issues. He can play clarinet, what is that? says Strong. Glover vomits through a clarinet.
A courtroom. Do you feel at all at fault for your friends and family being eaten? Strong asks Mikey Day. All I know is that I miss them, he says. The judge, Kenan Thompson, calls the opposing counsel. Glover is representing Jurassic World.
So, Mr Miller, Jurassic World should have to pay you money even though you waived all rights to sue the park? Glover hands Day a document.
I cant read it, says Mr Miller, its covered with my friend Scotts blood. Specifically, a T-Rex took my friend Rachel and ate her like youd swallow a Tylenol.
Leslie Jones is the jury foreman. Theyve found against the park. They gotta learn, she says. The dinosaurs always get out. True.
Next up: Glover, Thompson and Chris Redd play the hip-hop group Migos, rapping about going to see their therapist, Angela, played by Strong: Every time I bring up emotional conflict, he wanna talk about Lambos, Redd complains. The session is successful. On the way out they run into A$AP Rocky.
Another music video: 80s-style, Glover dancing in a black trench coat, singing a song to a lover Strong in a brilliant ugly pink cocktail dress who has spurned him. All your nice jewellery? he says, I put it right up my ass. Awkwardly, it turns out shes not his girlfriend at all; he mistook her for someone else thanks to his dark glasses. But its too late, as she explains to her husband hes already tried to sabotage their relationship: He poured pee in his hair and he tried to cut his penis off.
A Kanye Place: a group of scared, silent hikers are trying to survive monsters but Glover keeps interrupting with updates on Kanyes tweets. Its out there he says, its all out there. And guess who was at the baby shower!
Glover is in bed with his girlfriend, played by Melissa Vilasenor, but they cant agree on the parameters of dirty talk. Be a little mean to me, he says. Your dads dead, she replies. He also doesnt like her sibling role play, so he tries to take control. Ooh, he says, you look freaky. Yes, she replies, Im the Elephant Man.
Zoe Kravitz introduces the musical guest, Childish Gambino who is, of course, Glover. He really can do anything, and he sings a cool new soulful song surrounded by musicians and friends (and Kravitz) just hanging out on the stage.
Weekend Update! Rudy Giulianis admission about the Stormy Daniels payment was maybe the best confession Ive seen on TV that didnt end with created by Dick Wolf. Colin Jost says. He continues: [Its] the loudest hush money in history funneled through a law firm. Funneled is not a word that innocent people usually use when talking about money.
Michael Che considers the news that Trump paid Daniels in installments. Youre the president of the United States. Why are you paying for sex like its NordicTrack? He continues: Trump is calling this probe a trap, but questions are only a trap if youre lying.
As for the questions Robert Mueller is planning on asking, Jost says: Trump and his legal team are clearly the ones who leaked these questions at this point hes just crowd-sourcing his legal strategy. Its basic the same strategy Lays used to pick a new potato chip flavor.
Che: If I may ask the FBI directly, why is this taking so long? Look at Trumps team: you cant beat them? Are there different FBIs for white people and black people?
Pete Davidson appears to plug Jost and Ches gig hosting the Emmys. I think its great that Emmy hosts now are just cute friends whos hosting next year? A squirrel and a cat? Its downhill from there.
Jones discusses Facebooks new dating app. Will she use it? Hell no, she says, because the truth is that I always choose the worst men and tonight I wanted to have a tribute to all the raggedy-ass men.
She sings Sarah MacLachlans Angel over a montage headshots of bad men like Stacy, whose mom pulled her aside to say I had that boy, and I know you can do much better and Chester, who picked me up for a date and I didnt even know he was homeless, even though he had all of his stuff in the back of his car.
The final photo is of Jost. He was so cute and sweet and kind, but it would never work because he gay, she says.
Im not gay, he says. I have a girlfriend.
Youve gotta prove that youre not gay or Im telling everyone that you are.
It seems possible the writers were overwhelmed this week.
Star Wars sketch: Day is a galactic conference organizer and Glover is Lando Calrissian. Welcome to the first Galactic Summit for All Black Humans, Glover says. This started out with one question: Where the hell are all the black people in space? But now I see before me all the black humans in the galaxy.
The shot cuts to the room, which contains three people.
Lots of lizard men wearing vests, he says. Just four black people, though.
Interns at Mattel try to come up with captions for Barbies Instagram: Heidi Gardner and Davidson are too stupid but Glovers turtlenecked intern is just too existential. This feels a little undercooked, as sketches in the back half of an episode often are.
Childish Gambino comes on again, introduced by Daniel Kaluuya (we get it, Donald Glover has the coolest friends). He sings his new song, This is America, backed by amazing dancers in school uniforms. Childish Gambino has some cool patchwork pants and no shirt on. It is amazing, and he must be so tired! I am, and Im just typing.
And finally: Glover, Redd and Thompson are corrections officers who moonlight as home shopping customer service reps, mixing dark prison stories with pleasant conversations with people ordering jewellery and home goods. Again, it feels a tiny bit half-baked.
And thats a wrap! Stormy Daniels joins the rest of the cast to say goodnight, beaming in long red dress like a real American hero. The celebrities hug each other but are less affectionate with her. History will tell us if this is the right decision.
Read more: http://www.theguardian.com/us