Pieces composed in Nazi concentration camps are heard for first time in Jerusalem, after decades-long quest by Italian composer and pianist
At 85 and given the powerful emotions of the moment it would not have been surprising if Aviva Bar-Ons voice had wavered. But as she sang in clear tones in front of an audience of 3,000 people in Jerusalem on Sunday night, it was easy to imagine the nine-year-old Nazi concentration camp prisoner she was once was.
Bar-On performed a song she committed to memory more than seven decades earlier in Theresienstadt camp in Nazi-occupied Czechoslovakia. Composed by the Jewish poet and musician Ilse Weber, who was later gassed at Auschwitz, the song had never been heard in public.
It was one of 11 pieces performed at the concert, the culmination of a 30-year quest by Francesco Lotoro, an Italian composer and pianist who has tenaciously tracked down thousands of songs, symphonies and operas from the Holocaust.
The music was created in the darkest, most desperate moments imaginable by musicians and performers whose lyrics and scores were written on scraps of paper or memorised. Some were forced to play as their fellow inmates were led to the gas chambers.
Some [of the music] was written in notebooks, on coal sacks, food wrappers, tickets, Lotoro said. One five-act opera was found on sheets of lavatory paper. And some of the music was held only in the memories of survivors, now in their 80s and 90s.
Lotoro has travelled the world, searching in bookshops, attics and archives, and interviewing Holocaust survivors. He has salvaged and recorded 8,000 pieces of music, but there are more than 10,000 more waiting to be deciphered that I have not yet touched.
On Sunday, for the first time in more than 70 years, a fraction of this music was performed in a concert in Jerusalem called Notes of Hope. The audience included Holocaust survivors and their descendants.
Nineteen children from two music academies in the Negev desert, who have been mentored by Lotoro for the past two years, played with the Ashdod Symphony Orchestra. They were accompanied by some of Israels most eminent performers, singing in Hebrew, Yiddish, German, Czech and Romany, with Lotoro conducting.
Despite the circumstances of their composition, most of the songs were spirited and upbeat.
Zitra (Tomorrow), composed by Joseph Roubicek for a young prisoner, Manka, looks forward to a day when everyone will be happy at heart. In a video recorded by Yad Vashem, Israels Holocaust memorial, and shown at the concert, Manka said singing was something that made you forget the hunger.
Tango in Auschwitz, written by 12-year-old Irka Janowski and set to a popular dance tune, speaks of hope and freedom beyond fences and railings.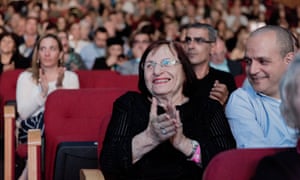 Read more: http://www.theguardian.com/us