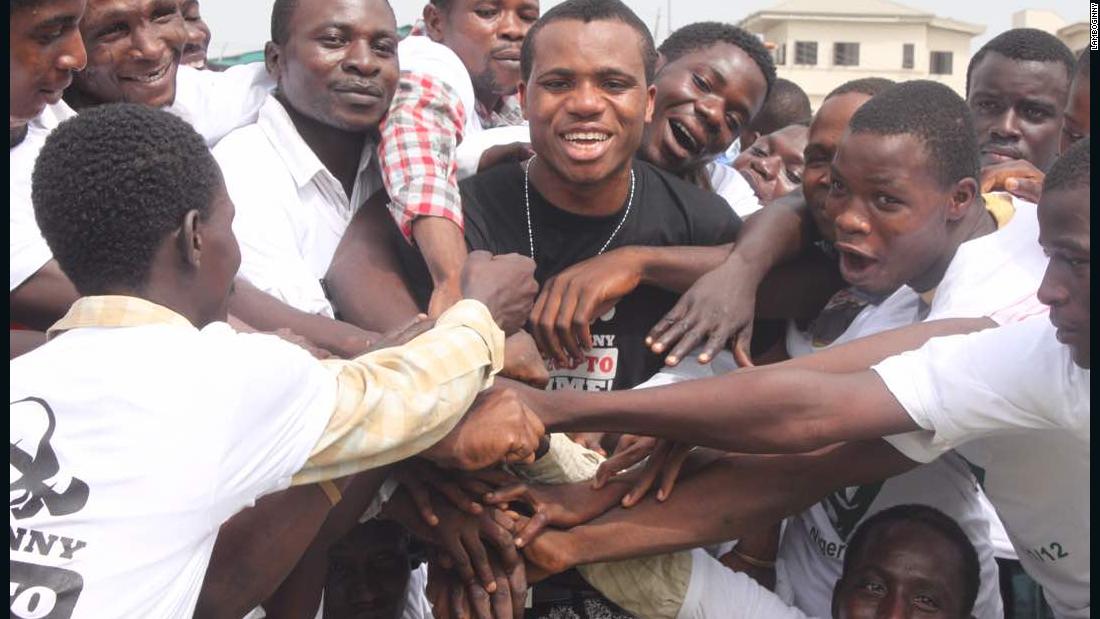 Lagos (CNN)When Yinka Lawanson (better known by his stage name "Lamboginny") launched his debut album in October 2017, he chose Nigeria's Kirikiri Maximum Security Prison as the venue.
In 2009, Lamboginny held his first concert at Kirikiri, Lagos, performing before a large audience of prisoners. These days, he holds 3-4 concerts in different prisons every year.
The mission is simple: to make prisoners smile again.
"What makes me happy is when I see that smile of hope on their faces," he says. "This is for them to know that life has not turned its back on them."
For the launch of album Saving All Lives Together (SALT), Lamboginny invited other musicians to perform with him at Kirikiri.
And although the weather was against them, Lamboginny says spirits remained high.
"It rained," Lamboginny says, smiling, "but inmates kept shouting, 'the rain cannot stop us!'"
Lamboginny says it's all about giving the prisoners another go at life. "I believe everybody deserves a second chance," he says.
"I am just a musician crying out loud on behalf of these inmates, and I am humbled and grateful to God that through my voice as a musician, people are coming out to help and also hear the cries of these inmates."
He is now taking his music beyond Nigerian prisons.
In November, he was invited to Leicester Prison, in the UK, where he performed before hundreds of prisoners.
The singer also recently held a one-day boot camp in a juvenile corrective facility in Lagos, during which he inspired teenagers through a series of lectures and music performances. He says it's his own way of marking the Christmas season.
"As part of the Christmas celebrations, to mark the season, it is our hope that in conjunction with the Hon. Attorney's General Office, cases of well-behaved and outstanding boys during their time at the remand homes could be reviewed and, if deemed fit, recommended for release to their parents and guardians," he says.
"This will serve as a way of encouraging other boys to work hard and be of good behavior."
He hopes, through his constant engagement with prisoners, to impact lives and help work on the release of prisoners charged with minor offenses.
"The prisons need decongestion as soon as possible," he says. "There has to be a way."
Read more: http://edition.cnn.com/