After police were called on a barbecue, black Oaklanders share stories of racism and evictions
Kenzie Smith cant get the voice out of his head. The woman couldve ended his life with a single phone call, he said, and her threatening words play on repeat.
The 37-year-old Oakland man made headlines last month when a white woman called police on him for barbecuing at Lake Merritt, a public park he has frequented since he was a child. Jennifer Schulte, who called 911 to complain about Smiths use of a charcoal grill, was soon nicknamed BBQ Becky, becoming the subject of viral memes and the most recent symbol of white Americans harassing black people.
Every time I look at that spot, its a constant reminder. Im always going to hear that voice, Smith said on a recent sunny morning, standing in the grass where, weeks earlier, his leisurely Sunday had turned into a nightmare. I honestly thought that I was going to die.
Smiths story reignited a national debate about racism in America, but in Oakland, the episode triggered a more acute pain. For some, it was a powerful depiction of the rapid disappearance of black Oakland a trend that for years has been dramatic in San Francisco, just across the bay.
While African Americans in Oakland have been steadily displaced by gentrification, others who remain are treated like criminals in their own hometown.
Ground zero for displacement
Oakland was a critical destination for African American families migrating from the south in the 1940s, a home to a Harlem of the West jazz and blues scene in the 1950s and the birthplace of the the Black Panther party in the 1960s.
The government, however, systematically devastated the citys black communities throughout the 20th century. Officials constructed freeways, train tracks and federal buildings that literally destroyed homes and tore neighborhoods apart. Federal redlining practices embedded racial inequality and segregation into the citys development, with banks allowing wealthy white communities to flourish while denying home ownership to black families. A corrupt police agency brutalized and jailed innocent black citizens.
My question is, when does it stop? said the Rev Thomas Harris III, the longtime pastor at Pleasant Grove Baptist church in West Oakland. While a typical service once brought 75 to 100 congregants, the numbers have dwindled to as little as 25 as black families have been pushed out of the area.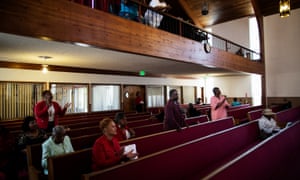 Read more: http://www.theguardian.com/us